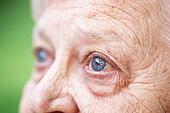 Her name was Solveig (pronounced: Soul' vig) Farseth. She was very much one of those intrepid Minnesota "Scandahoovians". I'm really not sure if she was Norwegian, Swedish, or Danish...there were plenty of all three in Minneapolis; but I know she was
old
. She was a lead social worker at Emerson, the special school where I worked. Both of the other social workers were somewhere in their 30s and 40s....but Solveig was
ancient
compared to them.
Ancient
, as in stoop-shouldered, skinny legs, old-fashioned dresses, and holding onto the stair rail on the way
down
the stairs. She said she had never smoked, and I certainly believed her, because she never drank the hard stuff, either, when we had staff parties. Knowing that, I always marveled at how many wrinkles she had....she seemed to have too many for a woman who had obviously engaged in the art of "good, clean living". In hindsight, I suppose Solveig's fair Scandahoovian skin was responsible; it was just too delicate for that blazing hot Minnesota week of summer every year..
In Solveig's favor, she had arresting, sparkling blue eyes. Her hair was a pale shade of gray, with natural streaks of pure white. I wish my own hair was going gray in that beautiful way. Solvieg's smile was radiant. She was the first indefatiguably cheerful and perennially positive person I ever met. Solvieg (Sol, as we called her), was a veritable whirlwind of social work at its finest.
I taught with many fine teachers up there at Emerson School. Most were young like I was, being closer to twenty-five than thirty-five. We partied at Sunny's pub, twice a month after school, on Friday payday. We told our intellectually disabled kids we were going out for "milk and cookies". Sol never came with us, but she always peeked into our classrooms at the end of those days and told us to have fun and drive safely. She basically functioned as our faculty "mom", in addition to her primary role as a strong advocate for our students and their families. Sol was a persistent detective at ferreting out resources to meet any need that the children or their parents had. I used to tease her about how it seemed she never went home, asking her where the Murphy bed was hidden in her office wall.
Anyway, what has prompted me to write about Solveig this week, instead of a student, was a Google search I did. Just out of curiosity, I typed in a few Emerson staff names. Up popped a link to Solveig Farseth. It was from the Minneapolis School employees "recently deceased" list. Coincidentally, and sadly, she passed away exactly one year ago today, March 31, 2012, at the age of ninety-seven. My mind started spinning the numbers....that meant that she was sixty-four years old when I left Emerson to be a stay-at-home mom, after the birth of our son Van. We moved to Iowa shortly after that. Whoa...the last time I saw Solveig, she was exactly the same age as I am now. Wait! I was so young then, and as I might have mentioned earlier, she appeared to be so ancient!
I started thinking, 'Is this how my twenty and thirty-something peers at school view me now?' Could I appear to be ancient to them? Sure, I forget some stuff now and then, but I make more fun of myself than any of them do about that. I've had three joints replaced, so I don't need to use the stair railing. My hair isn't gray (Thanks, Faith @ Hair To Stay in Johnston). My clothes are pretty standard-issue 'teacher style'. Holiday socks for Christmas and Halloween, comfortable but fashionable shoes, the obligatory sweaters from Von Maur...I confess to owning them all. I don't think they're dowdy.
I feel respected and completely valued by my co-workers, as I felt towards Sol. Never once did I give her any hint that she appeard elderly to me and never spoke about it to anyone else. I did not make fun of her age, doubt her dedication and skill in her field, or mention to her that it might be time to retire. I wasn't raised like that. I was instructed to respect my elders and I did. Yikes, now I am almost an elder myself!
No, I'm NOT! Solveig wasn't old either! After all, my sister Sharon was teaching at Iowa State University in her seventies. I work in Des Moines with a seventy-eight year old teacher. At church, there is an extraordinary woman, also in her seventies, Jane, who is also actively teaching. All three of them have amazing energy levels and love teaching. I know that I will not be teaching when I am in my seventies, but I salute those who do.
I especially salute Solveig, who worked with the same challenging students I have been writing about in this blog, but she was more than twice my age at the time. Any kid can drain a teacher, but special kids are particularly good at it. She may have been ancient, but I don't remember ever seeing her look tired. Solveig always looked like she had just finished a great nap, with her bright blue eyes and engaging smile. Any looming crisis or pressing need brought to her attention was immediately transformed into an opportunity to be creative and compassionate.
You have been gone a year now, and surely earned your rest, dear ol' Sol. I'm trying to remember how you operated when you were my age. My steps might be more spry and my wardrobe may be a little bit less dowdy, but as I strive daily to match your charm and effectiveness, I fall short. I can't promise anything, Sol, but I will truly give each day a good ol' Scandahoovian try. Thank you for your shining example.